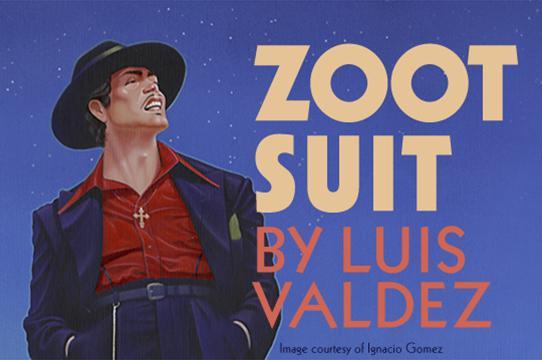 Attend this play for 2 hours of continuing education.
During our February 2017 Gang Culture training, presenter Gina Castaneda recommended this play for advocates to attend. Please read below for full details on show times and ticket prices (The play is not recommended for young audiences. Includes on-stage violence, mature language, and adult themes.).
Friday, May 26, 2017 to Sunday, June 4, 2017
Mainstage Theater (UCSC)
Presented by: Theater Arts Department
The iconic musical drama "Zoot Suit" tells the ripped-from-the-headlines story of the 1942 Sleepy Lagoon murder and the reaction by the LAPD, which resulted in the arrest, trial, and imprisonment of a group of Mexican-American men without evidence, because they were "Mexican and dangerous."
This injustice was followed by a wave of incidents of violence against Latinos and other minorities in Los Angeles and cities all over America. Because of the penchant among those attacked for wearing extravagant long cut "zoot" suits, these attacks became known as the Zoot Suit Riots.
"Zoot Suit" was written by Luis Valdez, a key figure in the Chicano Rights Movement. During the Delano Grape Strike in 1965, Valdez formed his fieldworkers' theater company "El Teatro Campesino" to perform short skits and "actos" from the backs of flatbed trucks and in union halls as a means to entertain and edify striking workers. "Zoot Suit" premiered at the Mark Taper Forum in Los Angeles in 1978 to standing-room-only crowds and ran for a year before becoming the first play on Broadway written by a Chicano author. Valdez generated an acclaimed film version of the play, starring Edward James Olmos and Tyne Daly.
Now, in 2017, Valdez has created a new version of the play which opened in March at the Taper Forum to celebrate the 50th Anniversary of the Center Theatre Group. The revival was held over three times due to demand. UC Santa Cruz will be the first academic theater in the world to produce this new script. The production will be directed by UCSC faculty member and Luis's son, Kinan Valdez.
With its compelling story, vibrant characters, swinging musical score featuring songs by Lalo Guerrero (>listen to it here!), and its insistence upon compassion and justice, "Zoot Suit" thrills audiences while reminding them of the dangers of representation of race in the media – a message that has never been more important nor more relevant. No wonder Los Angeles Times reporter Charles McNulty called the new Taper production "an exhilarating revival that speaks directly to the current political moment."
"Zoot Suit" is a uniquely American play that comes at a uniquely American moment. Join UC Santa Cruz in celebrating the life and work of Luis Valdez, one of the most important playwrights of modern history, with this theatrical event.
[>More music by Lalo Guerrero here!]
* * * *
May 26-27-28 and June 1-2-3-4
Thursday-Saturday at 7:30PM
Sundays at 3:00PM
Talk-backs after both Saturday performances.
Reserved seating.
Tickets on sale at UCSCtickets.com here.
The play is not recommended for young audiences. Includes on-stage violence, mature language, and adult themes.
$18 adult
$12 seniors (62+)
$12 students & youth
$12 UCSC staff and faculty w/ ID (up to 2 tickets)
$12 UCSC Alumni (w/ Alumni Association card)
$0 UCSC undergraduates w/ ID (1 free ticket per production)
Produced by special arrangement with El Teatro Campesino, San Juan Bautista, California
(original artwork courtesy Ignacio Gomez)
* * * *
AVOID THE LINE, GET YOUR TICKETS ONLINE.
PRINT YOUR TICKETS AT HOME OR SEND TO YOUR PHONE!
CREATE AN ACCOUNT AT UCSCTICKETS.COM AND PURCHASE TICKETS IN ADVANCE. PRINT TICKETS AT HOME OR SEND TO YOUR MOBILE DEVICE.
Ticket window opens 1 hour prior to start for those wishing to pick up tickets in line.
Theater doors open 30 minutes prior to the performance.
* * * *
We don't want you to miss anything!
Patrons not in their seats by 7:25pm (2:55pm for matinees) risk missing some or all of the first act. Please allow plenty of time.
Allow time to park, purchase a parking permit, pick up tickets at ticket window if needed, and be seated. If you arrive after the doors close, you will have to wait until intermission or for an appropriate pause in the performance.
The Mainstage has 521 seats and offers space for 2 wheelchairs with 1–3 guests each.
There is very limited seating that is accessible without stairs. Use Door 5 entry and select seats on Row J to avoid stairs.
Parking $4.