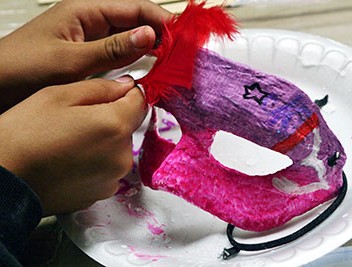 Can't volunteer your time? Support us with "stuff"!
We are just three weeks away from the start of first session and we are still in need of a few items to make things perfect. The following are some in-kind donations you can make to help our program be successful:
Discovery Supplies - Discovery is our interpersonal skills building class and this year, we are making masks. So....we need some supplies!
30 pie tins
6-9 different colors of acrylic non-toxic paints (Delta or Ceramacoat)
40-45 paint brushes #6 (small and medium round tips)
35 head band and/or shower caps
5-6 New jars of Vasoline
Towels (that we can wash and reuse)
Rolls of paper towels
Boxes of tissues
Baby wipes
Box of large garbage bags
Prizes for "Sunday Funday" - The day that the campers arrives at camp is Sunday Funday! We have activities for them to participate in and earn tickets. With those tickets, they can select from a wide variety of items from the "prize table." Items have included drawing paper and pens/pencils, photo albums, small toys, swimming goggles, arts & crafts kits, and small stuffed animals, just to name a few. Almost anything, but no food, expensive items, or items that require batteries. Items for boys and girls, ages 8-13.
Pool toys - We never seem to have enough of these to go around or last to second session. We can always use more goggles and masks in a variety of sizes, pool noodles, arm floaties, small inner tubes, blow up balls, and dive rings/toys. No water shooters type toys or large blow up floating things.
Take home items for "Swag Bags" - At the end of camp, we send each camper home with a bag full of their arts & crafts, camp journal, camp log, and other items. We love to put some surprises in there for them to take home. Different that prizes for Sunday Funday, we would need 30 of these for first session and 35 for second and they need to be the same for each set of campers. (but not the same for both sessions)
Please help spread the word by forwarding this email. As always, anything you can contribute is appreciated.
If you have any questions about these items, just reply to this email or contact Becky directly.
Donations can be dropped off to Becky (contact to make arrangements) or Debb (contact to drop off at the county buildings at Emeline Ave.).