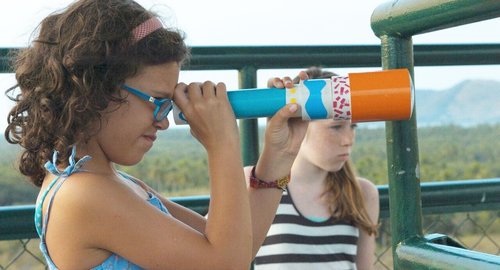 Tesoros / Treasures
Friday, October 6, 2017
7:30pm 9:00pm
Romo Lawn (across from City Plaza) (map)
FREE Family Film in the Park! Bring Blankets & Chairs!
Co-Sponsored by City of Watsonville • Parks & Community Services Dept.
Dir. María Novaro
In the town of Barra de Potosí, a small fishing community on the Mexican Pacific coast, a group of children are certain that together - and with the right map - they will find a pirate's treasure that has been hiding nearby for centuries. But what they are about to find is something far more valuable than a treasure. A film for children, their parents and their grandparents. [95 min. Spanish w/ English subtitles. All ages.]
¡Película GRATIS para toda la familia en el parque! Traigan sus sillas y colchas!
En el pueblo de Barra de Potosí, una comunidad de pescadores en la costa de Guerrero, en México, un grupo de niños está seguros que juntos —y con el mapa adecuado— encontrarán el tesoro del pirata que ha estado oculto por siglos. Pero lo que van a encontrar es algo mucho más valioso que un tesoro. Una película para niños, sus papás y sus abuelos. [95 min. En español con subtítulos en inglés. Para todas las edades.]
Opening Short: Disposable Plastic Blues, Dir. Ben Miller. Featuring Jennifer Gill's students from Watsonville Charter School of the Arts.