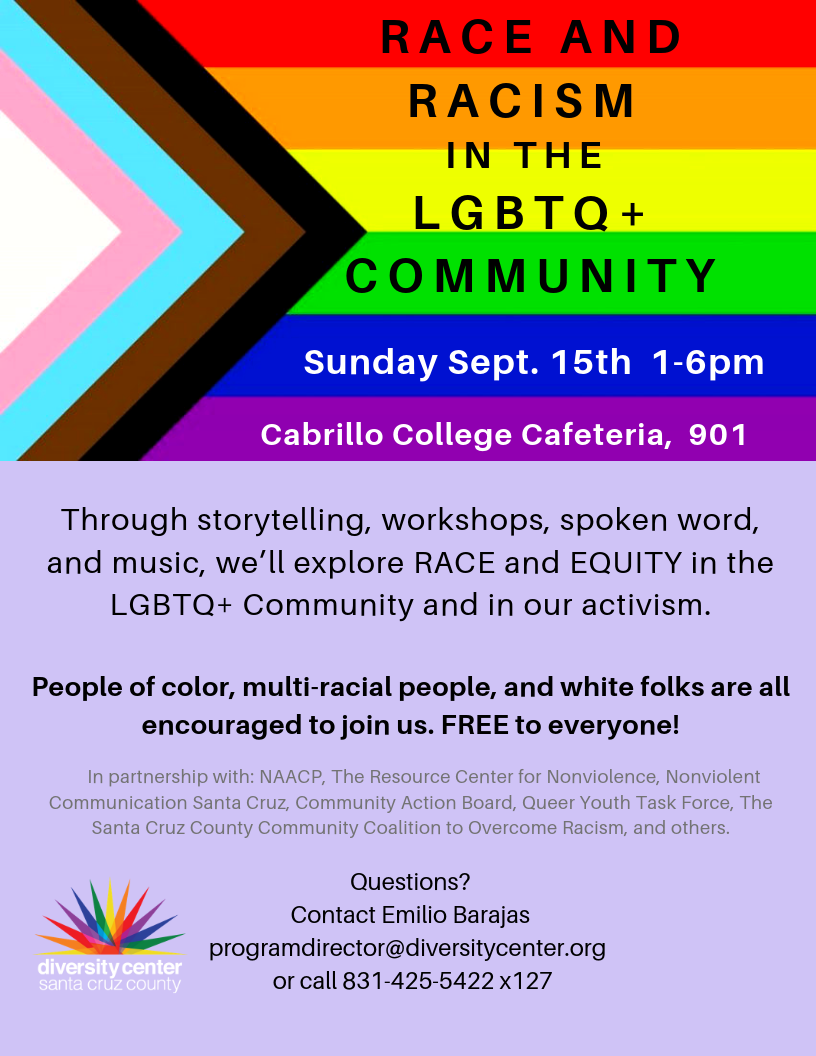 Dear LGBTQ+ community members and our allies, 

We have seen the devastating impacts of white nationalism over the last several weeks with the mass shootings across the nation, including in our own backyard in Gilroy.

Our hearts are broken but our activism is still strong.

We at The Diversity Center are committed to working on the issues of race and racism in the LGBTQ+ community and how we can collectively move forward together in our activism for the benefit of the entire LGBTQ+ community, including people of color, multi-racial people and white folks.

We know that these are not always the easiest conversations to have, but we are committed to creating a brave space and a safe place for community conversations about race and racism. 

The day will include presentations, experiential workshops, performances, spoken word and music. 

There will be several tracks that you can choose from including: 
 
One track for people of color and multi-racial people to gather by race/ethnicity and discuss how race and racism impacts your experience and your activism. 
Another track will be for white folks to talk about how race and racism impacts your lives, and the ways in which you can become effective allies in the fight against racism.
We will also be caucusing by issue areas such as: education, work, and disability rights.
Workshop topics will include: how race is portrayed in social media, and grief and mourning in LGBTQ+ communities.
Please join us for this crucial community conversation on:
Sunday, September 15th
From 1 pm to 6 pm
At Cabrillo College, Cafeteria, Room 901