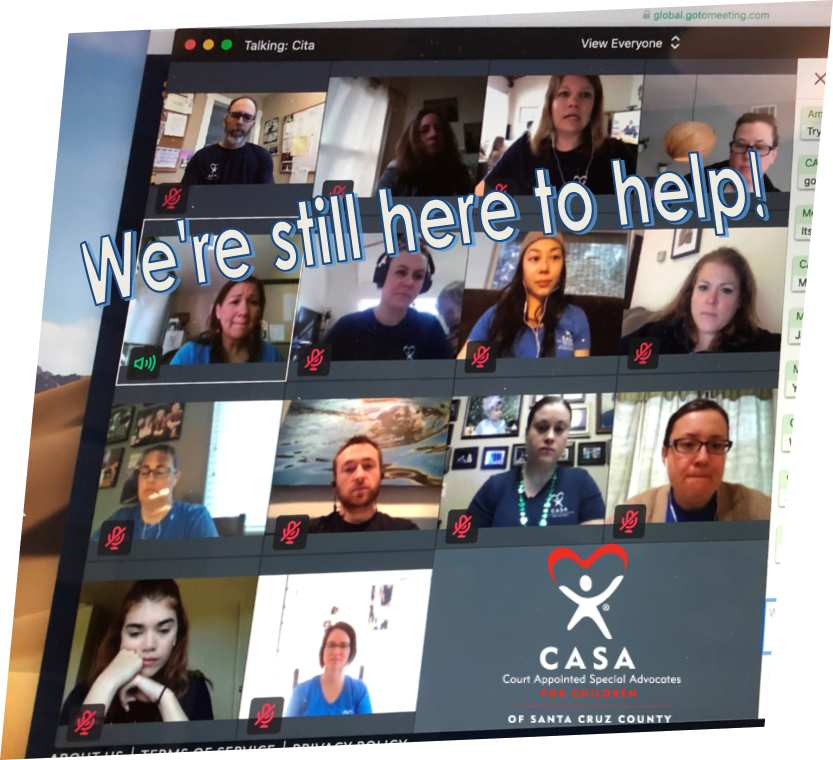 Hello CASA Family,
As we all adjust to the magnitude of the orders to Shelter in Place, I wanted to update you all about how CASA of Santa Cruz County is working through a number of challenges we are facing and the actions we are taking to address them.
All CASA Staff are working remotely.
Due to quick action during the week of March 9th our staff is fully operational working remotely. Our new phone system allows our staff to communicate effectively with our Advocates and our partners, and we have digital access to all of the tools we need to continue to do our job advocating for our CASA children. We are proud of our success in adapting to remote work, and are prepared to do so until the situation improves. Anyone can call our normal office number and we will get the phone call at our remote stations.
We are directing Advocates to stay in close (digital) contact with the youth and families they serve.
The families we serve are facing new hardships, in addition to the challenges they already had. CASA is prepared to leverage monies to help families working with a CASA address acute financial needs. Additionally, we have already awarded three CASA scholarships to former CASA youth who are currently attending college as a way to help.
Many services that families would receive from our partners have been delayed.
Critical services, like visits between parents and their removed children, are on hold. We are continuing to advocate for our CASA children and their families receiving vital services and putting ourselves forward as helpful agents in receiving them. 
We have cancelled two of our fundraising events.
If you are in a position to do so, please continue to support CASA of Santa Cruz County and other nonprofits who are doing much needed work in our community.
Most importantly, we are going to get through this together.
CASA, with your support, will continue to vigorously advocate for children in whatever way needed. For example, over the weekend Judge Denine Guy, Presiding Juvenile Justice Court, reached out to CASA with a list of items that would help the youth in Juvenile Hall feel connected; snacks, Gatorade, coloring and journaling books as well as games and some fun stuff to pass the time. Thank to the generous support from all of you in the CASA family we were able to give a few hundred dollars of supplies and CASA delivered them to the Court.
Stories like this will continue, COVID or not.
Sincerely,
Lynne Petrovic
Executive Director
CASA of Santa Cruz County