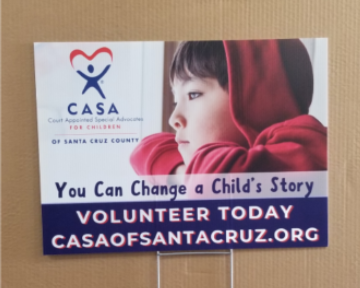 While we all continue to adjust to our ever-changing world, the need for caring adult volunteers to speak up for the best interests of children who have been abused and neglected has never been greater.
You can help raise awareness about the need for more volunteers to support local children by displaying a CASA yard sign in your neighborhood.
Signs will be available for no-contact pick up on:
Thursday, July 30, between 10am - 3pm at CASA
Friday, July 31 between 10am - 3pm at CASA
Saturday, August 1, between 11am - 2pm in Capitola
Reserve your signs at casaofsantacruz.org/lawnsign.