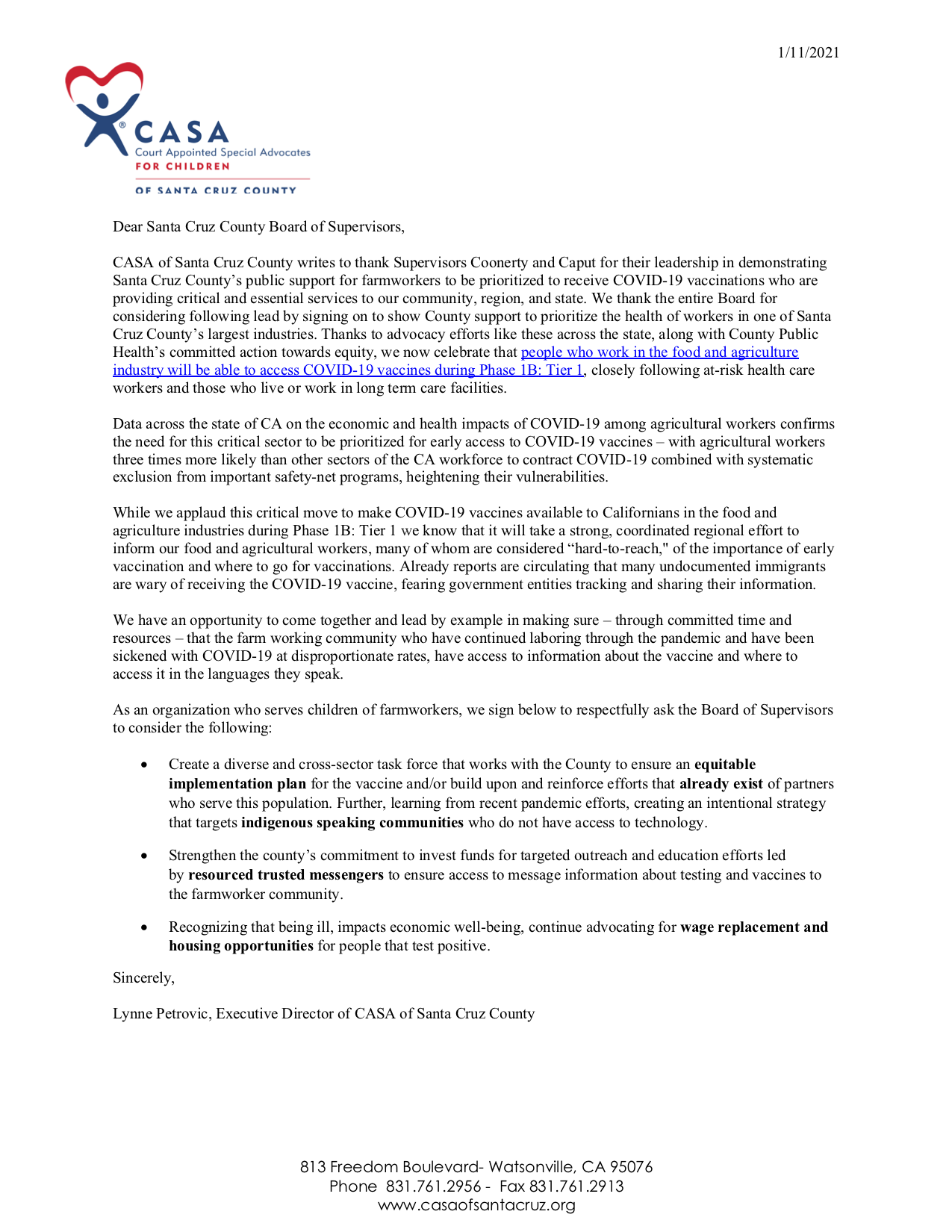 We care about the health of farmworkers in Santa Cruz County. Their health and safety directly affects the health and safety of their children, and thus it is the concern of the entire community that farmworkers are adequately protected from COVID-19. To that end, we, along with other organizations in the community, sent this letter to the Board of Supervisors ahead of their January 12th meeting:
Dear Santa Cruz County Board of Supervisors,                                                                           
CASA of Santa Cruz County writes to thank Supervisors Coonerty and Caput for their leadership in demonstrating Santa Cruz County's public support for farmworkers to be prioritized to receive COVID-19 vaccinations who are providing critical and essential services to our community, region, and state. We thank the entire Board for considering following lead by signing on to show County support to prioritize the health of workers in one of Santa Cruz County's largest industries. Thanks to advocacy efforts like these across the state, along with County Public Health's committed action towards equity, we now celebrate that people who work in the food and agriculture industry will be able to access COVID-19 vaccines during Phase 1B: Tier 1, closely following at-risk health care workers and those who live or work in long term care facilities.
Data across the state of CA on the economic and health impacts of COVID-19 among agricultural workers confirms the need for this critical sector to be prioritized for early access to COVID-19 vaccines – with agricultural workers three times more likely than other sectors of the CA workforce to contract COVID-19 combined with systematic exclusion from important safety-net programs, heightening their vulnerabilities.
While we applaud this critical move to make COVID-19 vaccines available to Californians in the food and agriculture industries during Phase 1B: Tier 1 we know that it will take a strong, coordinated regional effort to inform our food and agricultural workers, many of whom are considered "hard-to-reach," of the importance of early vaccination and where to go for vaccinations. Already reports are circulating that many undocumented immigrants are wary of receiving the COVID-19 vaccine, fearing government entities tracking and sharing their information.
We have an opportunity to come together and lead by example in making sure – through committed time and resources – that the farm working community who have continued laboring through the pandemic and have been sickened with COVID-19 at disproportionate rates, have access to information about the vaccine and where to access it in the languages they speak. 
As an organization who serves children of farmworkers, we sign below to respectfully ask the Board of Supervisors to consider the following:
Create a diverse and cross-sector task force that works with the County to ensure an equitable implementation plan for the vaccine and/or build upon and reinforce efforts that already exist of partners who serve this population. Further, learning from recent pandemic efforts, creating an intentional strategy that targets indigenous speaking communities who do not have access to technology.
Strengthen the county's commitment to invest funds for targeted outreach and education efforts led by resourced trusted messengers to ensure access to message information about testing and vaccines to the farmworker community. 
Recognizing that being ill, impacts economic well-being, continue advocating for wage replacement and housing opportunities for people that test positive.
Sincerely,
Lynne Petrovic, Executive Director of CASA of Santa Cruz County