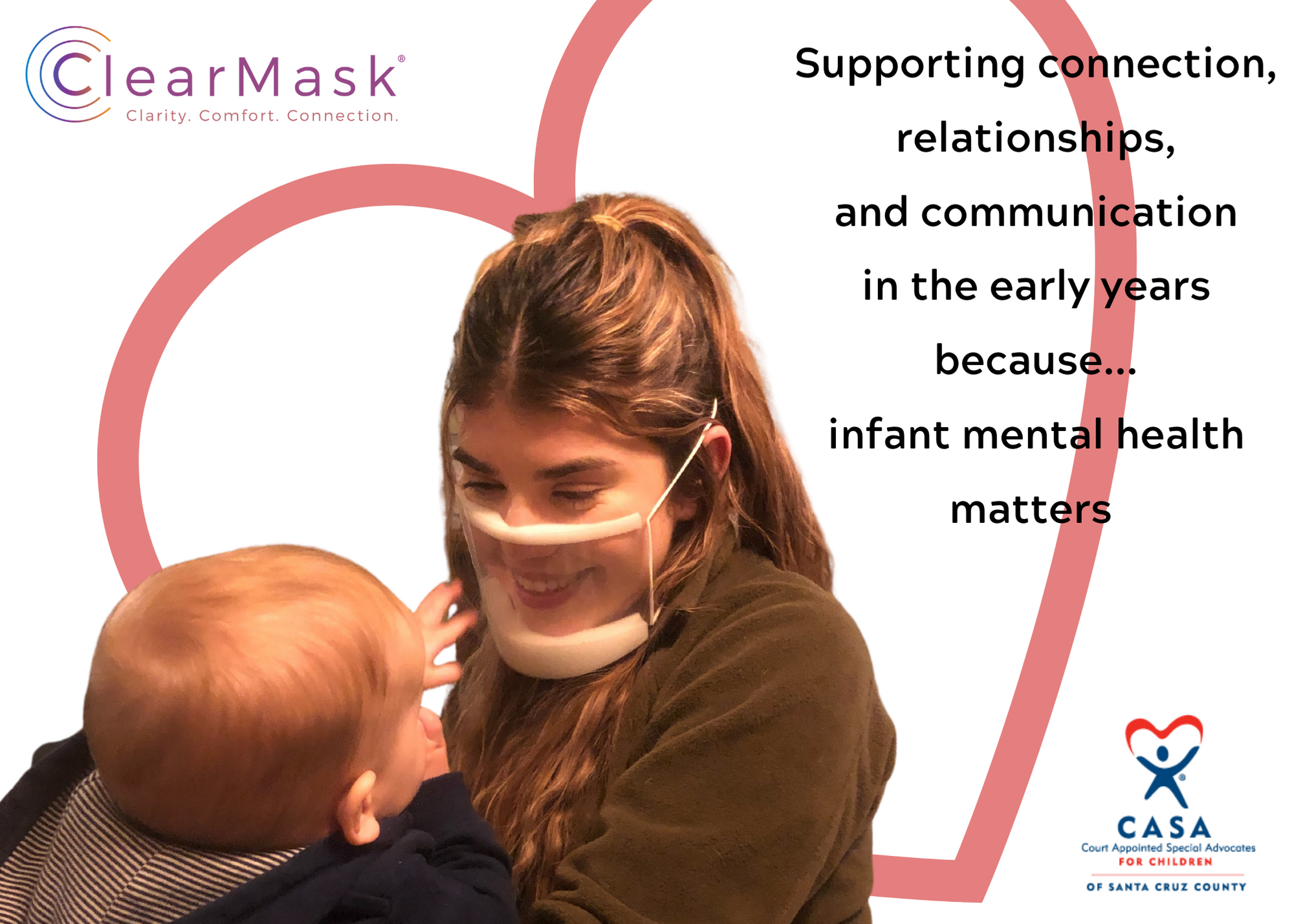 We, as humans, are biologically wired for connection with others. From birth, we seek it out; we find our tribe. These relationships build us up to be resilient in the face of adversity. This desire for connection is directly tied to our social emotional development. We all have it and it starts from day one. 
In these unprecedented times of social distancing, we hear concern for adult and youth mental health, However, a continually missing piece in this conversation is infant mental health. Children 0-5 years old make up the largest percentage of children coming into the child welfare system, with the highest number of children being under a year old. Infants and toddlers are in the early stages of learning about themselves, others, and how the world works. As we adhere to the safety guidelines of wearing facial coverings, we recognize the impact that the absence of visual cues and connection can have on young children's mental health, relationships, and early literacy development. 
A vital part of a child in foster care reunifying with their parent is the opportunity for them to spend time together during visits to support the attachment and bond. Currently, during these visits, masks must be worn, covering parents' facial expressions, and oftentimes their expressions of love, joy, and connection with their child. While facemasks are a critical intervention in stopping the spread of coronavirus, the barriers they can present are undeniable, especially for very young children. 
Therefore, we are thrilled to have received a donation of over 1200 masks from ClearMask to support our infants and toddlers in foster care. These masks will be going directly to support visits between our youngest children and their parents, as well as  CASA Advocates as they continue to show up for the children in our community. 
We recognize the importance of ClearMasks in supporting early infant mental health through supporting attachment, relationships, and communication. We will continue to address the unique needs of infants and toddlers in the work that we do serving children in foster care, and spreading the word about infant mental health.
If you have more questions about CASA of Santa Cruz, would like to make a donation towards a purchase of additional ClearMasks for our Advocates and the families we serve (A donation of $28 purchases 10 ClearMasks, $67 purchases 24 masks) please visit www.casaofsantacruz.org/ donate and write "ClearMask" in the notes field.  
Or if you are interested in advocating for our youngest children, visit www.casaofsantacruz.org/volunteer