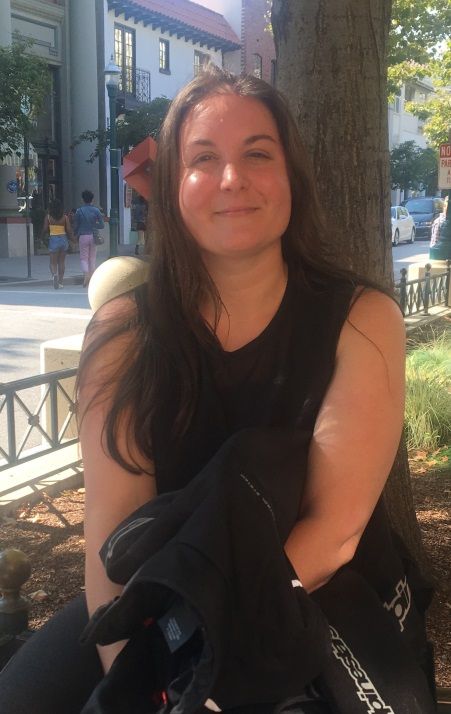 At CASA, we are always looking for ways to celebrate our amazing Advocates. In keeping with that intention, every month we will highlight the story and experience of one Advocate who is working with a child or youth. Every Advocate has a story, and we hope that by regularly featuring individual Advocates, we can honor the stories and experiences of all. We will randomly choose an Advocate who has their volunteer file up to date (monthly logs, insurance information, and driver's license) to be our Featured Advocate each month.
This month, we got to know Guinevere (Guin) Ashley. Guin has been an Advocate for a little over a year. She lives in Gilroy half the week and Santa Cruz the other half of the week as she is getting her Ph.D in Molecular Biology at UC Santa Cruz. When she isn't with her CASA girl, Guin said, "I spend my life in a lab playing with worms."
Guin wanted to become a CASA because she had a desire to be involved in her community. She says, "Everyone has a responsibility to do something, and I was looking for my little thing. Someone mentioned CASA and it just fit for what I was looking for." Guin says that being a CASA is a good way to really feel like you're making a difference in someone's life.
Guin is currently working with a 16 year old young woman, who she describes as "a great girl, who is fun, sweet, considerate of my time, and makes me laugh." When asked what they do together she said with a smile, "We don't do much. We hang out and eat food together. It's easy, but to my CASA girl it's huge."
Guin reflected on this last year with her girl, recognizing that out of the people on her team, Guin is one of the only people who has been there since the beginning of her time in foster care. She said, "A year is a lot for them; they remember everything."
There are many reasons why Guin believes it's important for youth in dependency to have an Advocate, "especially so that the youth have someone who is always there for them, someone that knows what is going on in their life."
One fun fact that we learned during Guin's interview was that Guin used to work at a skydiving center! She would skydive multiple times a day every weekend! She loved to "play in the sky with my friends."
Guin reminded us that you don't have to do much to impact the life of a child or young adult. Just show up!