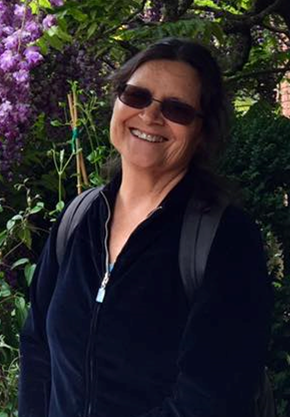 At CASA, we are always looking for ways to celebrate our amazing Advocates. In keeping with that intention, every month we will highlight the story and experience of one Advocate who is working with a child or youth. Every Advocate has a story, and we hope that by regularly featuring individual Advocates, we can honor the stories and experiences of all. We will randomly choose an Advocate who has their volunteer file up to date (monthly logs, insurance information, driver's license) to be our Featured Advocate each month.
This month, we're happy to introduce you to Denise Gomez. Denise came to CASA in 2008, motivated by very personal reasons. She said, "I wish I had had an Advocate, or mentor, when I was growing up under very difficult conditions." She continued, "I wish I'd had a guide, someone who understood what I was going through who could have helped me find my way in the world."
A graduate of UCSC, she left Santa Cruz in 1973 but returned with husband Bob in 1984 from grad school in Boston, with a Master's degree each, and their firstborn son, Guillermo. Both Denise and Bob began working for the Pajaro Valley Unified School District as Migrant Education Resource Teachers, and bought a home in Watsonville. A year later, their daughter Estelí was born. Now nearly 33 years later, Denise has fond memories of her kids growing up in this same house.
In her ninth year as an Advocate, Denise is currently serving her 7th CASA child, a little boy aged 4. "My little preschooler has a spark, an enthusiasm for life, for learning, and for connecting with people," Denise said. Even though he struggles with speaking, he doesn't let his difficulties limit or frustrate him; he just moves on. I wish I could be more like that in my life!"
Denise has seen first-hand how important it is for children in dependency care to have an Advocate. She said, "Each and every one of these children has specific needs that an Advocate can help with. Sometimes, the need is obvious; other times the child may simply need guidance with navigating his or her life."
With many choices of how to spend her time in retirement, Denise said being an Advocate gives her a chance to use her strengths and talents to make a positive difference in a child's life. She added, "Also, very importantly, I feel appreciated by the CASA organization!"
A fun factoid about Denise: she is a former Fabulous Hubcap! Denise and husband Bob met in 1976 at a community sing-along in San Francisco. Shortly after, they joined a '50s rock and roll band called the Fabulous Hubcaps. The group was together for 3 years, but Denise and Bob continue to sing in harmony to this day.