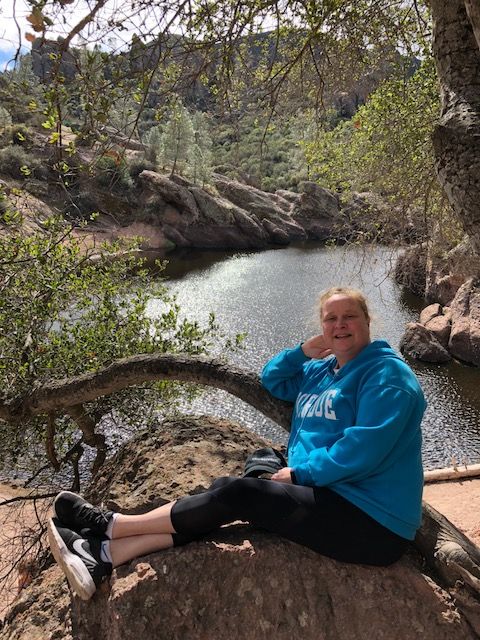 Each month at CASA we celebrate, appreciate and highlight the story and experience of one of our wonderful Advocates. Each has a unique story and perspective and each child that they work with is in a different situation and has different needs. We hope that by sharing their individual stories, we can honor the stories and experiences of all Advocates. This month we got to know Becky Oesterle.
Becky grew up in Wisconsin and Almaden, California with her parents and four siblings. She fondly remembers family time filled with music, sports and playing outside until dark. Becky has lived in Santa Cruz since graduating from high school and is married to her high school sweetheart, with whom she has two grown daughters. She is a Physical Therapy Assistant in San Jose, with a focus on pediatrics and acute care, giving her urgent care experience supporting drug exposed newborns and infants diagnosed with shaken baby syndrome.
Becky's love for children brought her to CASA. After her daughters left for college, she felt she could be the consistent, caring adult to a child. She was particularly attracted to the way that CASA connects with all the people who support the family and has already been appreciated by her team for talking "to everybody with the child's interest in mind."
Becky has been working her first child since October 2017. She chose to be CASA to a newborn baby that was exposed to substance abuse in utero and who was placed in a resource home. For the past 9 months, Becky has been that consistent person she had hoped, bridging the two worlds of resource and birth family. Becky shares a mutual interest in humor and eating with this little guy and she is currently finding joy in witnessing his newfound abilities. Since they first met, Becky has witnessed a big change in the quality of his movements, from tight and shaking to much more fluid – right on time… he recently began crawling!
On a personal note, Becky and her husband love to travel and hike regularly with their dogs. They are avid sports fans, who root for our local Golden State Warriors, the Oakland A's and Raiders. Few people know Becky was the queen of the monkey bars in grade school and junior high. These days she stays limber as a kitchen acrobat; a spontaneous chef who enjoys cooking without recipes.