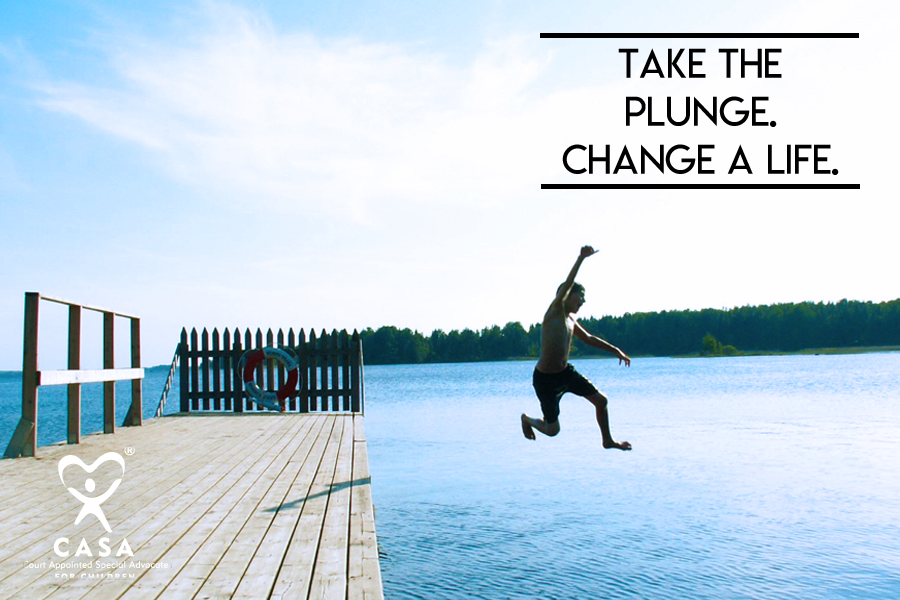 Is now the time for you to take the plunge and become a Court Appointed Special Advocate??
You do not have to be a lawyer or social worker to volunteer as a Court Appointed Special Advocate. CASA volunteers are everyday people, trained by CASA and then appointed by judges to advocate for the safety of children who have been removed from their homes because of abuse or neglect. CASA volunteers are fully supported by a staff supervisor and are part of a team that works in the best interests of the child.
A CASA volunteer spends time with his or her child each week, gathering information from everyone involved in the child's case. CASA volunteers also work with attorneys and social workers. They review records, research information, and talk to anyone involved with the child, including parents, extended family members, doctors and teachers.
From information gathered, a volunteer presents his or her best recommendations to the judge, for the safety and welfare of his or her CASA child. Very often, a case involving an abused child can slip through the cracks in the overburdened child welfare system. The best hope for that child is one pair of eyes and ears focused intently upon him or her. Those eyes and ears belong to that child's very own personal CASA volunteer. Although there is a great need for bilingual and male volunteers, we always encourage people from all cultures and professions and of all ethnic and educational backgrounds to learn more.
Upcoming Informational sessions are:
• Tuesday, July 10, 10:00 to 11:00 a.m. at CASA, located at 813 Freedom Blvd. in Watsonville
• Thursday, July 12, 2:00 to 3:00 p.m. at The Painted Cork, located at 1129 Soquel Avenue in Santa Cruz
• Tuesday, July 17, 6:00 to 7:00 p.m. at Live Oak Family Resource Center, located at 1740 17th Avenue in Santa Cruz
• Wednesday, July 18, 5:30 to 7:00 p.m. at CASA, located at 813 Freedom Blvd. in Watsonville
• Friday, July 20, 12:00 to 1:00 p.m. at Surf City Coffee, located at 9105 Soquel Drive in Aptos
CASA has a special daytime training that starts Aug. 13. Sign up for an information meeting at casaofsantacruz.org/daytime