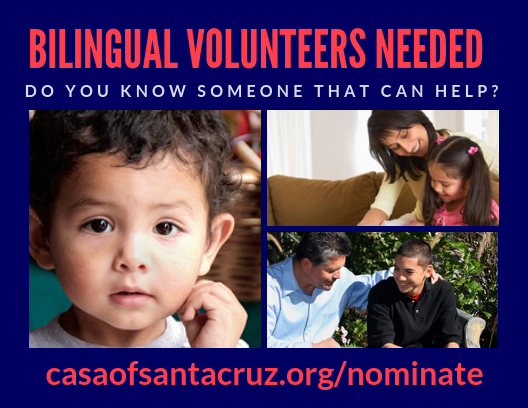 In Santa Cruz County more than 500 children live in foster care each year because they have been abused, neglected or abandoned. Most of our county's children in foster care live in Watsonville and about 25% need help from someone who speaks Spanish.
If you want to learn how, with just a few hours a week, you can make a difference for a child in foster care as a CASA volunteer, please join us for one of our upcoming information meetings:
Tuesday, September 11, 6:00 to 7:00 p.m. at Live Oak Family Resource Center, located at 1740 17th Avenue in Santa Cruz, OR
Wednesday, September 19, 5:30 to 7:00 p.m. at CASA, located at 813 Freedom Blvd. in Watsonville
. You can sign up at https://casaofsantacruz.org/volunteer/information-meeting-signup.html
 You do not have to be a lawyer or social worker to volunteer as a Court Appointed Special Advocate. Volunteers are fully supported by a staff supervisor and are part of team that works for the best interests of the child. Watch this short video to learn more or go to casaofsantacruz.org.