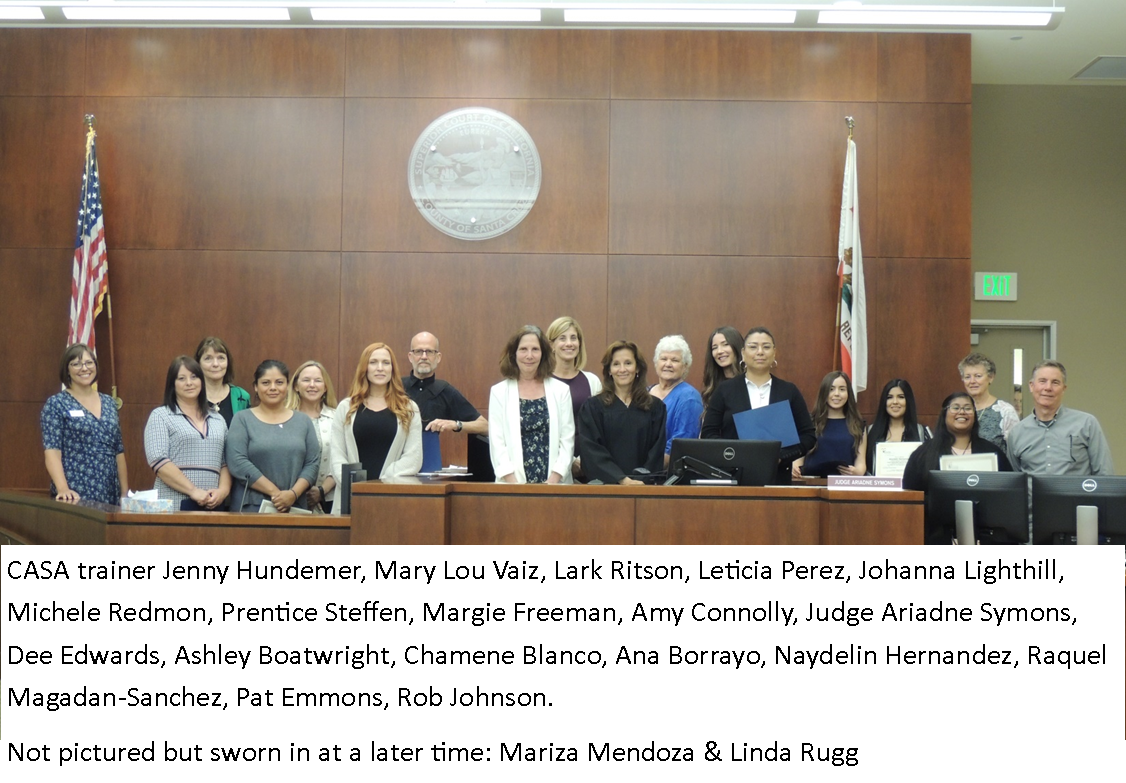 On August 13, 2019, the Hon. Ariadne Symons swore in 18 community members as Court Appointed Special Advocates for children in foster care. This was upon their completion of the CASA 35-hour training program.
CASA of Santa Cruz County recruits, trains, and supervises volunteer Advocates who are matched one on one with a child in the county's dependency (foster care) court system advocating for them the entire time they have a case open with the Court. As officers of the Court, CASA volunteers ensure that the children's needs are recognized and their best interests are considered in the courtroom, school, and in the community.
Judge Symons took on the role of Dependency Court Judge a few weeks prior to the swearing-in but has been highly involved as a CASA supporter for years.  She had this to say in regard to the work of CASA volunteer Advocates: "Court Appointed Special Advocates have a special place in the Court's heart and the heart of every child they help. We could not be as effective as we are in guaranteeing children's safety and reunification with their families without the work of these selfless Advocates. We are profoundly grateful for their dedication."
Training to become a Court Appointed Special Advocate typically takes place two nights a week from 6-9 p.m. for 5 weeks.  Once a year, a special daytime training is offered that will takes place Monday through Thursday from 9:00 a.m. to 12:00 p.m. for two weeks. Our next daytime training will be Sept 30 through to Oct 15.  This is a rare opportunity to complete the 35-hour course without having to drive at night. Here are some upcoming informational sessions, where people can learn more about becoming an Advocate.
Wednesday, September 4, 5:30 p.m. at CASA, located at 813 Freedom Blvd. in Watsonville
Friday, September 6, 12:00 p.m. at California Coffee, located at 9105 Soquel Avenue in Aptos
Saturday, September 7, 10:00 a.m. at CASA, located at 813 Freedom Blvd. in Watsonville
Tuesday, September 10, 6:00 p.m. at Live Oak Family Resource Center, located at 1740 17th Avenue in Santa Cruz
Thursday, September 12, 2:00 p.m. at Staff of Life, located at 1129 Soquel Drive in Santa Cruz
For more information on how to become a CASA volunteer Advocate, please contact CASA Outreach Coordinator, Cita Rasul, at (831) 761-2956, ext. 102, or visit www.casaofsantacruz.org.