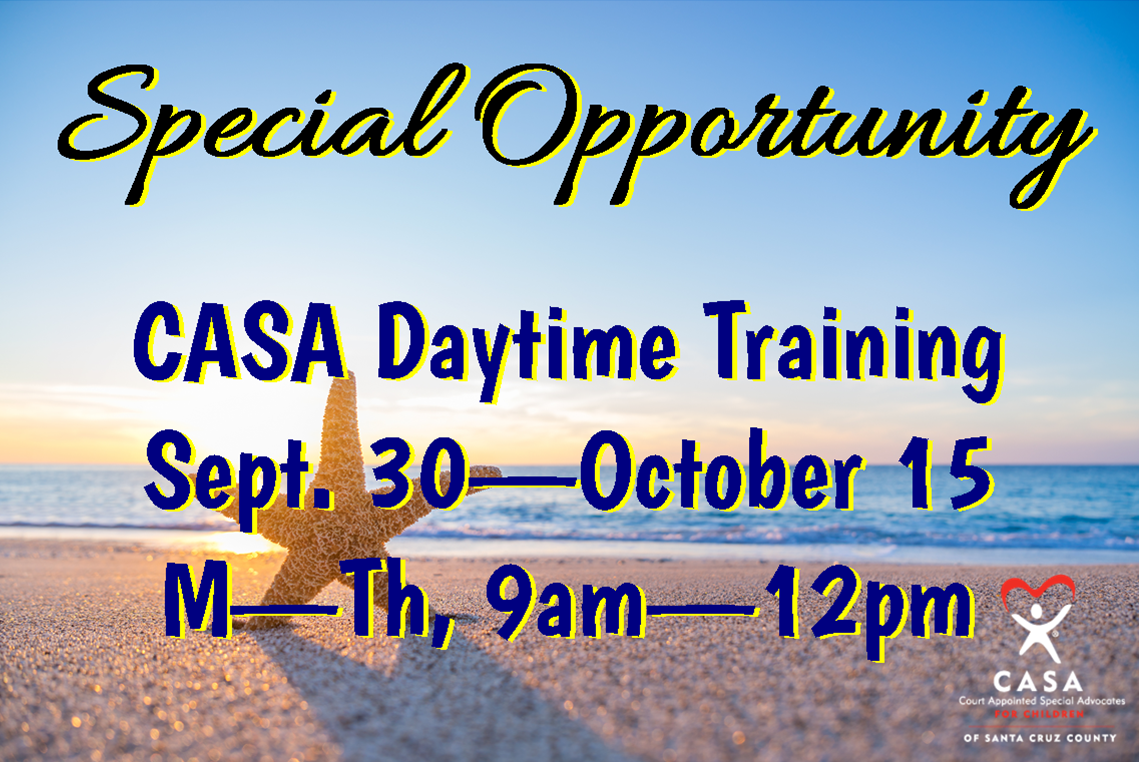 5 year old "Cassie" was a victim of serious neglect in her home.  The Dependency Court Judge determined it was best for Cassie to live with a caring foster family while her parents get the drug counseling and support services they need to provide a safe home for Cassie. The foster parents, having three of their own children, are doing their best, but Cassie has experienced severe trauma and needs a lot of extra support for behavioral and emotional issues. The Judge, knowing the difference it can make, has referred her to CASA to be matched with an Advocate to work one on one with Cassie during this difficult time.
Cassie is just one of the children on the wait list at CASA who need a strong Advocate in their corner. Court Appointed Special Advocates (CASA) volunteers develop a one-on-one relationship with the child and/or their families or caregivers. They get to know the child and their situation and advocate for their best interests in Court, school, and the community. They help them navigate an often confusing system and provide consistency and stability during an uncertain time.
CASA is offering a special daytime training beginning on Sept 30.  Rather than the typical evening training of two nights a week for five weeks, this training will be held from 9 a.m. to 12:00 p.m. for roughly two weeks, Monday through Thursday (Sept 30 – Oct 15). Rebecca Tas, a current CASA volunteer, graduated from the last daytime training class and shared her experience, "The timing worked out perfectly for me because I'm a stay-at-home mom, so I could attend class while my kids were in school. Also, I liked that it was a much shorter period of time, so I was able to choose my CASA child much sooner. Being an Advocate has been extremely satisfying. I love working with children, and it was really interesting to learn how the system works and how much help there is for people in difficult situations, not just for the children but for everyone involved. It has made a big difference for my CASA child."
Upcoming info sessions are:
Wednesday, 9/4, 5:30 p.m. at CASA, located at 813 Freedom Blvd. in Watsonville
Friday, 9/6, 12:00 p.m. at California Coffee, located at 9105 Soquel Avenue in Aptos
Saturday, 9/7, 10:00 a.m. at CASA, located at 813 Freedom Blvd. in Watsonville
Tuesday, 9/10, 6:00 p.m. at Live Oak Family Resource Center, located at 1740 17thAvenue in Santa Cruz
Thursday, 9/12, 2:00 p.m. at Staff of Life, located at 1129 Soquel Drive in Santa Cruz
For more information on how to become a CASA volunteer Advocate, please contact CASA Outreach and Recruitment Manager, Cita Rasul, at (831) 761-2956, ext. 102, or visit www.casaofsantacruz.org.
Register at https://casaofsantacruz.org/signup/.