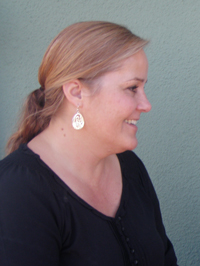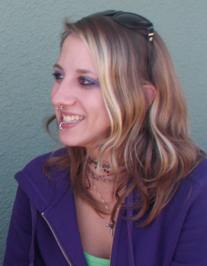 Jeannie & Kira
Kira's earliest memories are steeped in fear and violence. "I remember being 3 or 4, crying on the floor, watching my dad beat my mom half to death." Her father was arrested many times. "I was always wondering why someone didn't come and get us out of there."
When Kira was 8 her mother moved to Los Angeles, leaving Kira and her older brother with their father. They didn't hear from her for years. "We didn't know if she was dead or alive." Their father grew more violent. The children often sought refuge at the homes of friends. "We ran away together many times."
As Kira struggled to hold her life together, Jeannine Ando was attending a CASA Advocate orientation."I'd been an empty nester for seven years and I was looking for an opportunity to encourage someone and support them. I've always enjoyed that role," said the Aptos teacher. Shortly before Jeannine was sworn in as an Advocate, a final harrowing episode brought Kira into the protection of the foster care system. She was 16. "When they came for me I was so relieved." Kira's father went to jail and Kira was placed in a group home. "A little girl in my group home had a CASA and she always came back from the visit so happy," Kira said. When Juan Ascencio, CASA's Court Liaison, asked Kira if she would like her own Advocate, "I told him I was interested," she said. Kira told Juan she hoped an Advocate could help her do better in school. "I had always used school as a huge outlet, but with all the craziness at home, I was really struggling." As a teacher, Jeannine seemed a perfect match for Kira. "We went to a coffee shop to get acquainted," Jeannine said. Kira said she was "super nervous" at first, but they got along great. Both have twinkly brown eyes, blondish-brown hair and wide, ready smiles. "And we both have an off-the-wall sense of humor," Jeannine said.
Over the next 18 months they saw each other weekly. They painted pottery, went to lunch, visited the Monterey Bay Aquarium, did school work, and shared long talks over coffee. Jeannine taught Kira to sew at the CASA house. "It's huge that CASA has a house," Kira said. "Everybody who knows about it loves the place."
Jeannine says her time with Kira is very fulfilling. "Kira is creative and she likes to experience new things." With Jeannine's support Kira got all A's and B's her senior year. "It was great to watch her set a goal and achieve it," Jeannine said. Kira is grateful to have Jeannine in her life. "I would never have had a friendship like we have," she said.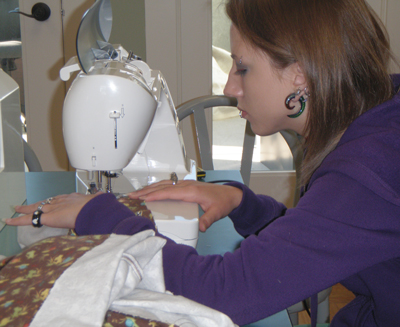 Kira is now 18, no longer in foster care, and enrolled at Cabrillo College part time. She and Jeannine still see each other a few times a month. "My hope for Kira is that she continues in school and is happy in her life," Jeannine says, smiling at her young friend. And Kira's hope? "I want to be a veterinarian," she says, smiling back. "It's been my plan since I was 4 years old."
CASA volunteers like Jeannine are making a life-changing difference for children in foster care every day.