Videll and Marco
Videll Gonzales could never have guessed how much his life would change when he decided to explore becoming a CASA Advocate back in 2004. "I wanted to find a way to do something worthwhile, and to help young people," he said. By spring of 2005, the retired union representative was immersed in CASA training.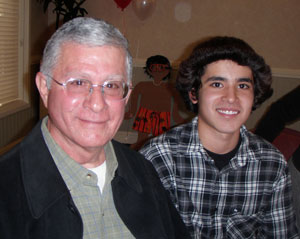 Just a few miles from Videll's training, a scared young 12 year-old named Marco was being taken from his home. Marco's father disappeared when he was young and his mother struggled with drugs and alcohol. His extended family was descending into gang culture, drugs and crime. No one was taking care of Marco or his siblings. The children were placed in different foster homes. Marco was frightened.
In training, Videll learned how his friendship as a CASA Advocate would strengthen a child in foster care, and how -as a sworn officer of the court- his insights would assist judges and others in helping the child heal from the pain of abuse and neglect. "I had no expectations, but I hoped to work with a teenage boy," he said. When Videll's training was complete, CASA's staff told him about Marco. A judge signed a court order assigning Videll to be Marco's CASA Advocate. "I was nervous about meeting my teen," Videll said.
"I didn't know what CASA was, but I thought it was going to be fun.
I was happy to have Videll in my life. Having a CASA gives you time to get away from your foster home and do things that are fun."
Videll and Marco saw each other once a week and discovered they had many things in common. They exercised, did school work, ate a lot of hamburgers and had many heartfelt conversations. Videll went to court hearings and spoke up for Marco's best interests. Marco learned to trust adults again; he respected Videll and valued his guidance.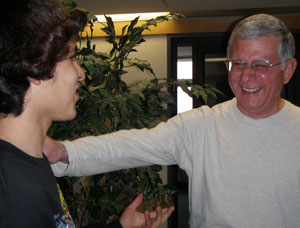 "We have a great relationship. It's like having a confidential counselor.
I feel comfortable talking with Videll about anything."
With Videll's constant encouragement, Marco continued doing well in school. When he was old enough he got a part-time job. Videll often told Marco he expected him to go to college. As Marco prepared to graduate from high school, he applied for an academic scholarship from CASA through the Judge Kathleen Akao Memorial Fund. Videll and Marco celebrated when the scholarship was granted.
"I will use the scholarship to further my education because I want to do something with my life. I plan on graduating from college and helping my little brothers and sisters succeed with their lives too, even though
we have had it pretty rough. "
Videll describes Marco as "my hero" for overcoming the difficulties of his childhood. "I always tell him to strive and survive. I make it clear that I love him and assure him that the things that happened to him were not his fault."
"In my future I see myself having a good job, my own apartment and maybe later buying my own house and supporting a family of my own. My last five years with Videll as my Advocate have gone by fast. We have a great relationship. Videll feels like family."
Videll says Marco has enriched his own life in ways he could never have imagined. He shares his story with others who are in training to become CASA Advocates, helping them understand the life-changing difference they will make for a young person someday. Marco is a student at Cabrillo College.
CASA volunteers like Videll are bringing stability and hope to children in the foster care system every day, improving lives and building stronger communities throughout Santa Cruz County.