IMMEDIATE OPENING: Part-time Events Coordinator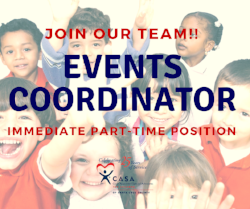 There is an immediate opening for a part-time Events Coordinator to work with the Development Director and volunteers in the planning and implementation of its two major fundraising events. 
The position requires someone who is able to work about 10-15 hours per week throughout the year.  The individual should have experience working with volunteers or committees and in managing and coordinating events.  The position requires extensive use technology including word processing, social media, email, spreadsheets and use graphic design/layout software for creating flyers, brochures, and social media. 
The days and hours are flexible, but require the person to be available at the CASA office sometime during normal work hours, M-F from 8:30 to 5pm.
The approximate responsibilities are as follows.
From January through May, 2018:
Manage The Human Race/Team CASA web page (event date:  May 12, 2018) for CASA, including inputting, creating reports, and assisting participants in designing individual web pages.
Create and disseminate publicity and marketing materials via Constant Contact, Facebook, personal e-mails, and regular mailings.
Create and publish pre- and post-event ads in the SC Sentinel.
Create and order all t-shirts, banners, signage, etc. for pre- and post-race events.
Order items needed for t-shirt decoration at kick-off event.
Communicate with TC participants re: updates on fundraising, pre- and post-event info, etc.
Manage the booth and event on the "day of"
From June through November, 2018:
Work with Development Director to create detailed timeline for Imagine logistics and activities (event date:  September 30, 2018)
Devise and update detailed spreadsheet to track live and silent auction items, including description of items.
Coordinate silent auction organization and displays materials; Create live and silent auction bid sheets
Create event ads/collaterals, program and slide show
Take lead on developing and implementing check-out procedures.
Attend meetings and work closely with both main Imagine Planning Committee and Live/Silent auction sub-committee.  Support Committee members by supplying necessary solicitation materials when requested.
Manage volunteers during "mailing parties" (i.e., mailing out of Save the Date cards, invitations, etc.)
Create multi-faceted slide presentation for the event program.
The ideal candidate is someone with:
Ability to motivate and support volunteers.
Excellent technology skills, including experience with Publisher and/or other graphics programs.
Proven project management skills.
Detail oriented, with great accuracy. 
Ability to handle multiple projects at once, according to the planning timeline.
Flexibility and ability to change directions seamlessly and with little stress.
Continuous availability during the months of August and September 2018.
The ideal candidate will be able to make a commitment in this positon of 2 years.
Hours/Compensation:
This is a contracted position. 
Average of 10-15 hours per week
$18/hour compensation
How to Apply
Please send resume and cover letter outlining your skills and qualifications to: 
Mary Kashmar, Development Director, maryk@casaofsantacruz.org
CASA reserves the right to begin interviews as soon as qualified applicant submissions are received.
Download PDF of this description
---
CASA of Santa Cruz County is an equal opportunity employer.