---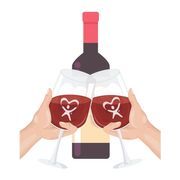 "Together in Loving Celebration"
Even though we're going virtual this year, we want you to enjoy some of the luxuries we would normally provide during our times together.
The TLC package includes 2 Imagine! 2020 wine glasses and one bottle of wine to enjoy during an exclusive pre-event cocktail zoom room. Cheers!
Click here to purchase a TLC package
---
Items for auction
This year, we have some great items to auction off thanks to the kind donations from our Santa Cruz community members.
Click here to view the items we have up for auction
---
OneCause
To bid on items, purchase raffle tickets, and make a donation please familiarize yourself with OneCause. 
Tip: to place a quick bid and keep track of that amazing vacation home rental you have your eyes on, go to www.bidpal.net/imagine20 on your smartphone while you use a laptop or desktop computer to watch the Live event on Facebook!