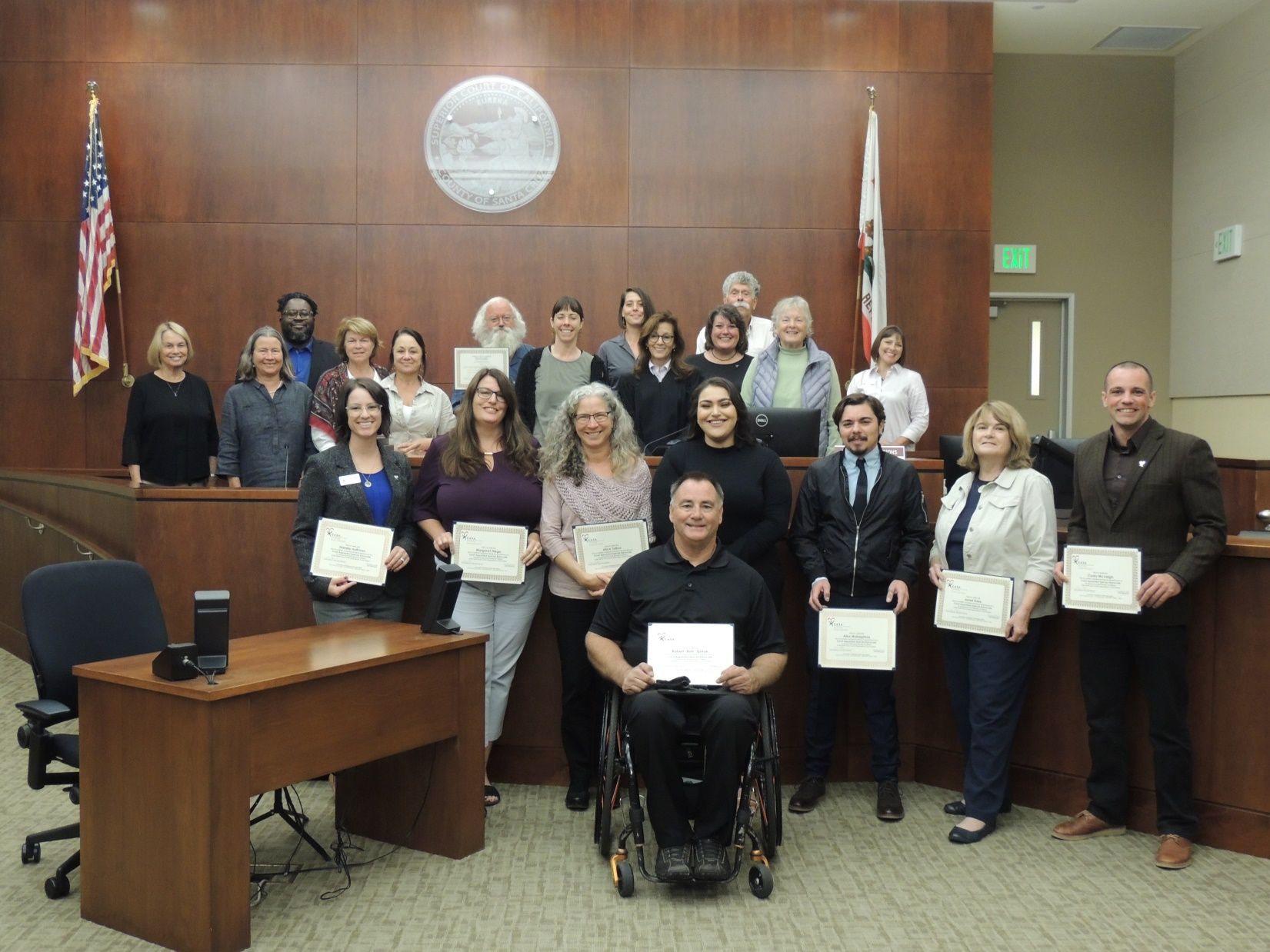 On October 22, 2019, the Hon. Ariadne Symons swore in 18 community members as Court Appointed Special Advocates for children in foster care. This was upon their completion of the CASA 35-hour training program.
CASA of Santa Cruz County recruits, trains, and supervises volunteer Advocates who are matched one on one with a child in the county's dependency (foster care) court system advocating for them the entire time they have a case open with the Court. As officers of the Court, CASA volunteers ensure that the children's needs are recognized and their best interests are considered in the courtroom, school, and in the community.
CASA's Court Liaison, Clint Bonds, who has been in his role since August 2017, stated, "I have been part of ten CASA graduations and I am continually impressed by the willingness of these volunteers to jump into this role and advocate for a child. Every abused or neglected child is a unique individual, and sometimes a system can't comprehend all of the complexities that each child's story contains. Having a CASA Advocate means having someone that will speak up for the needs in each of those children's unique situation, and that is an incredibly important person to have in a child's life. Every child needs that kind of relationship, and I am grateful for the community members who are willing to take the time to develop those relationships with the children in dependency care."
CASA of Santa Cruz County's waitlist of children currently includes 13 children, 4 of which are under the age of 3. Although there is a great need for bilingual and male volunteers, we always encourage people from all cultures and professions and of all ethnic and educational backgrounds to learn more. The following dates are informational sessions for community members to learn about getting involved with CASA:
Saturday, December 7, 10:00AM at CASA, located at 813 Freedom Blvd. in Watsonville
Tuesday, December 10 6:00PM at Live Oak Family Resource Center, located at 1740 17thAvenue in Santa Cruz
Wednesday, December 11, 5:30PM at CASA, located at 813 Freedom Blvd. in Watsonville
Thursday, December 12, 2:00 p.m. at Staff of Life, located at 1129 Soquel Drive in Santa Cruz
For more information on how to become a CASA volunteer Advocate, please contact CASA Outreach Coordinator, Cita Rasul, at (831) 761-2956, ext. 102, or visit www.casaofsantacruz.org.

Back row: Janet Kennedy, Mary MacLellan, Quentin Levy, Kerry McDonald, Judith Tollner, Joe Jordan, Chella DeVoe, Laura Palmer, Honorable Judge Ariadne Symons, Kammy Ryckman, Harry Cozad, Erica Chapin, CASA Trainer Jenny Hundemer
Front Row: Natalie Hoffman, Margaret Diego, Alice Talbot, Clarissa Infante, Alex Malaspinas, Janet Kass, Corey McVeigh, Robert "Bob" Spisak
Not pictured but sworn in at a later time: Gabriella Figueroa Rico