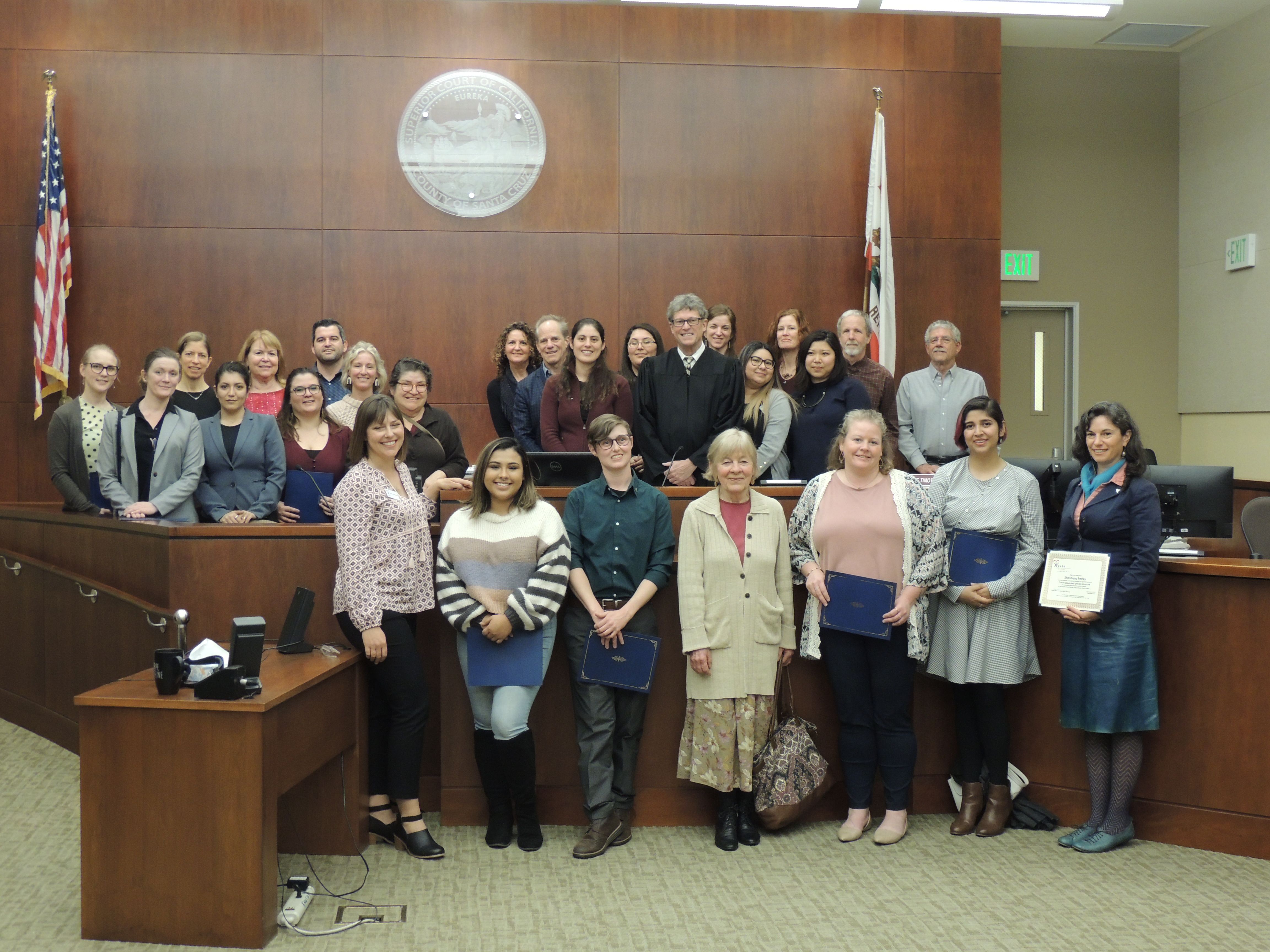 Congratulations Graduates!
We are so happy to welcome the newest class of volunteers to the CASA Family!
On February 18th, 2020, the Hon. Timothy Schmal swore in 26 community members as Court Appointed Special Advocates for children in foster care. This was upon their completion of the CASA 35-hour training program.
CASA of Santa Cruz County recruits, trains, and supervises volunteer Advocates who are matched one on one with a child in the county's dependency (foster care) court system advocating for them the entire time they have a case open with the Court. As officers of the Court, CASA volunteers ensure that the children's needs are recognized and their best interests are considered in the courtroom, school, and in the community.
Judge Schmal, who presides over the Juvenile Dependency Court, stated, "It was such a privilege to swear in such a large, enthusiastic group of new CASAs.  They will have a profound, positive impact on the lives of the kids who they will serve.  CASAs also play an invaluable role in informing and educating judges about their Court-appointed kids - in ways that others often don't or can't."
Although there is a great need for bilingual and male volunteers, we always encourage people from all cultures and professions and of all ethnic and educational backgrounds to learn more.
Anyone interested in learning more can sign up for an information meeting here: https://casaofsantacruz.org/signup/
In Photo: 
Back row: Jane Shtalenkova, Amber Burke, Jill Borba, Nazanin Askari Balsa, Maureen Ricketts, Emily Chambers, Brandon Napoli, Gina Vaggioli, Maria Bahena, Melanie Sobel, Daniel Atler, Laura Chiavola-Larson, Alicia Gaytan, Honorable Judge Timothy Schmal, Rachel McCullough-Sanden, Lilly Galvan, Nora Dougherty, Lilie Pham, Brian Sanford, John David
Front Row: Jenny Hundemer (CASA Trainer), Jacky Rodriquez, Mel Hunt, Marsha Heidt, Amelia Cutten, Rita Montserrat Medina-Bahena, Shoshana Perrey
Not pictured but sworn in: Pam Kotler