"My journey as a CASA Advocate started out as a way to serve my community but ended in a beautiful friendship. I never thought giving back could be so rewarding. I now find my CASA youth looking toward her future with optimism. She needed one adult to believe in her."
– Allison, CASA Volunteer Advocate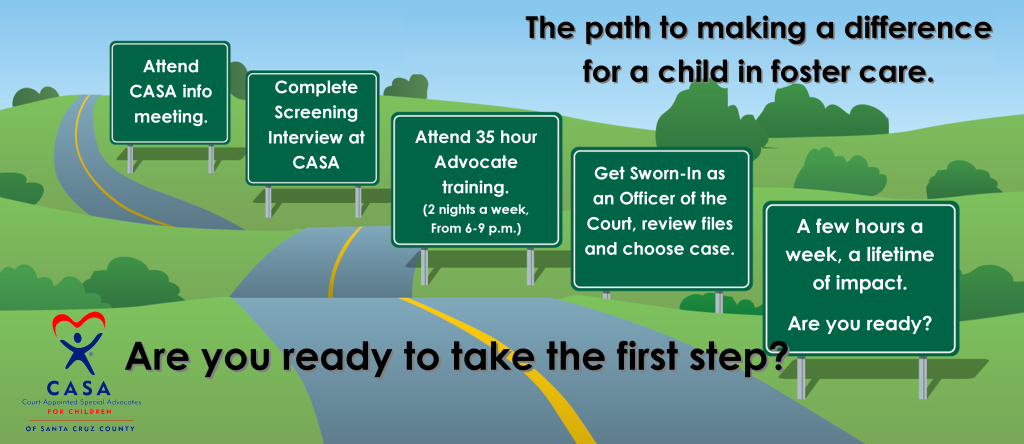 If you are considering the commitment of being an Advocate, you will be asked to participate in a comprehensive screening and training process.
Attend an Information Meeting

Information meetings are about one hour and take place at various times and locations throughout the county. View dates, locations and sign up to attend by Clicking Here.

Pre-training Interview with staff at CASA Office in Watsonville

You will receive the Volunteer Application at your information meeting. Bring completed application with you to your interview.

Submit Screening Paperwork

You will receive a welcome email from our Program Assistant with training information and instructions.

35-Hour Advocate Training

NOTE: You must attend an information session and screening interview before receiving your invitation to join training. CASA offers four trainings per year; Click Here to View Current Training Schedule. Trainings take place at various locations throughout the county.

Advocate Graduation

Includes Dependency Court Observation & Swearing-In. This takes place on a scheduled Tuesday morning at the Watsonville Courthouse.

Post training interview and Child Matching

CASA's professional staff offers each new Advocate several potential children from which to choose. The new Advocate is matched with a child/youth he or she would like to serve.

Judge signs Order of Assignment

Meet Advocate Supervisor & Begin Advocacy
Want more info? Call us at (831) 761-2956 ext 102 or clarita@casaofsantacruz.org