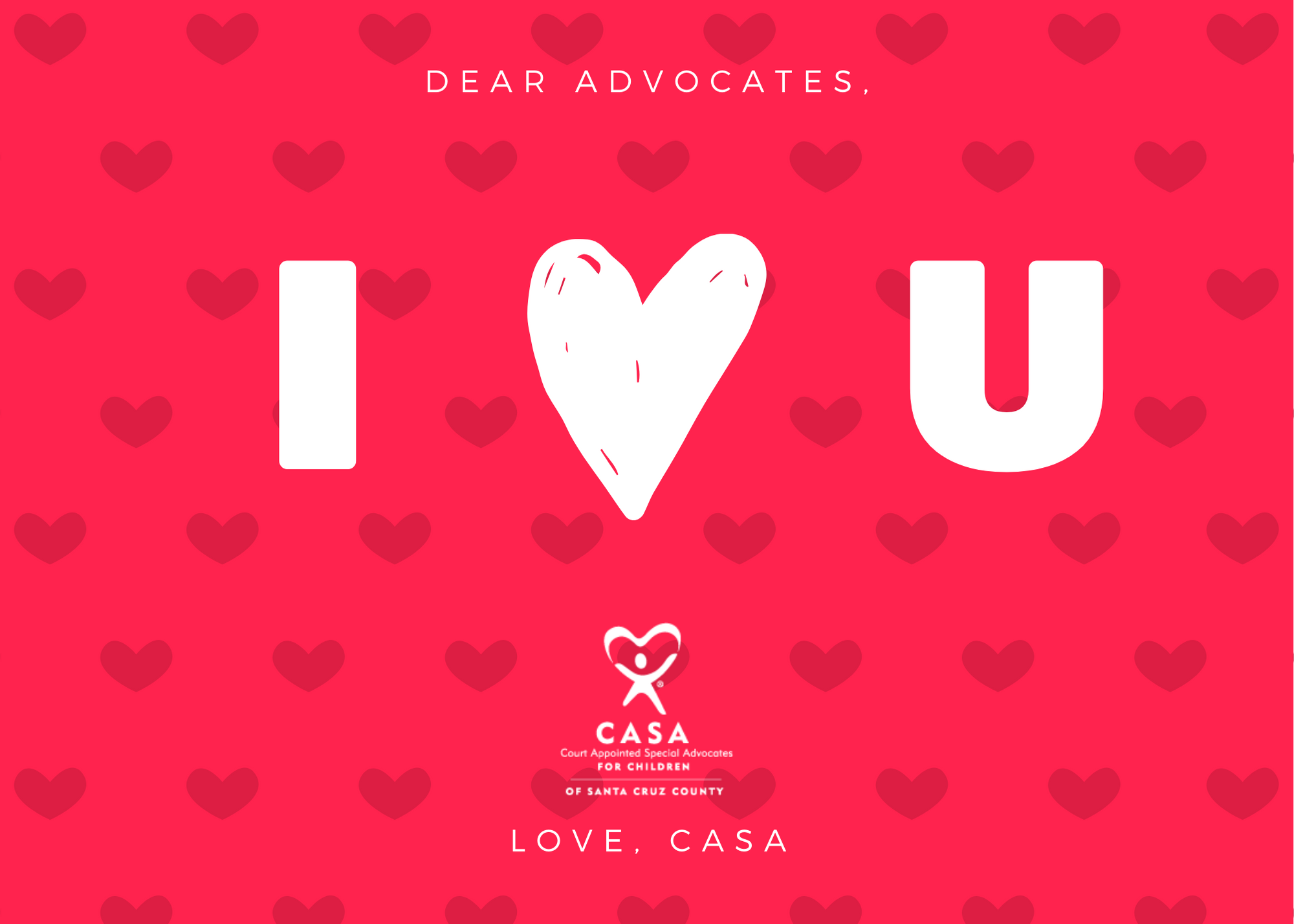 We love our Advocates! This Valentine's Day we made a list of the reasons why we love Advocates and wanted to share the love with you.
1. Advocates are flexible.
Advocates are always trying new things and going to new places with their CASA kids. Whether trying all of the orange chicken in the county or volunteering with their CASA kid at the animal shelter for the first time, Advocates are always ready to try something new!
2. Advocates are willing to be a kid again.
Every year we see Advocates bring their CASA kids to the CASA House and the Advocates' inner child is on full display. Whether it's dressing up, playing games, or even juggling (literally!) Advocates know how to play and how to be a kid.
3. Advocates are committed and consistent.
Week in and week out Advocates are there for their CASA kids, spending time with them every week and attending every court hearing. In a world that is always changing, Advocates are committed and consistent in their role with their CASA child.
4. Advocates are creative helpers.
Advocates continually impress us with how they are able to identify a family's needs and find ways to either address them directly or hunt down the resources that are needed in the community. Advocates are super talented!
5. Advocates meet our families where they're at.
They are non-judgemental and work to help the family find their strengths.
6. Advocates are good at minding the details and juggling things on the job.
There are a lot of details in the Dependency System! But between our training and the natural genius of each of our Advocates they are always able to understand what's going on or ask for clarification if they don't.
7. Advocates roll with the punches.
They are quick to adapt and change course when stuff comes up, and it always comes up! And they keep a sense of humor when things are tough.
8. Advocates are humble and willing to learn.
They surprise us with their curiosity and willingness to grow.
9. Advocates are good at self-care.
They give a lot of themselves and they make sure to get the rest and down time they need to re-charge so they can be there 100% for the children.
10. Advocates are invested and they stay connected.
So many of our Advocates remain in contact with their child once the case has closed, even when the child moves away. They build life-long bonds.