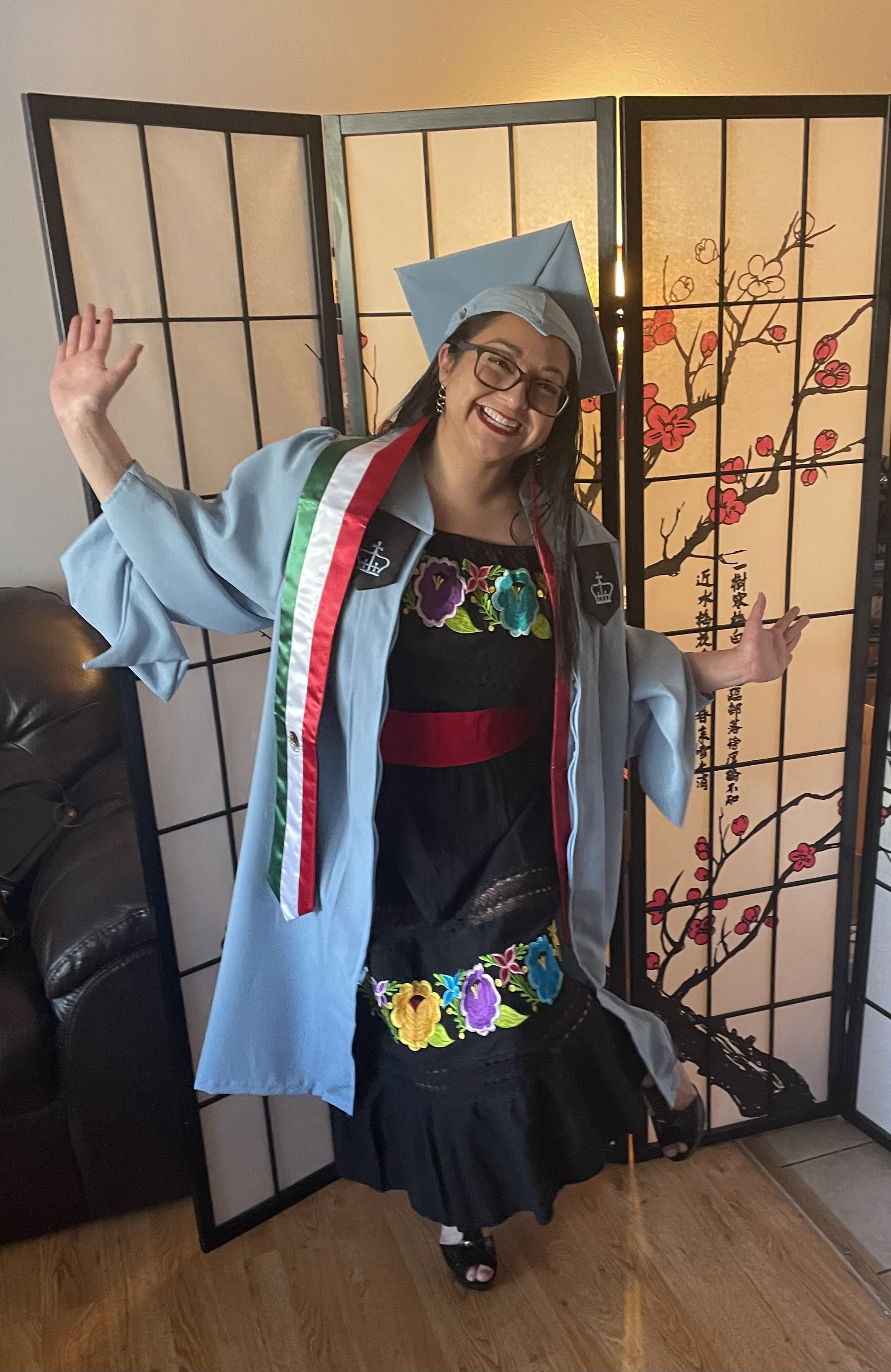 Please join us in celebrating M Pacheco (pronouns Ella, They, Them), an amazing young Latinx whose resilience, accomplishments, and optimism is extraordinary. 
You may have met M during the past 20 years as a foster youth, a CASA intern, or a CSUMB student. And now, they just received their Masters degree from Columbia University School of Social Work! They are currently living in Denver and have been working in the community while attending school virtually.
Here is their story:
M entered foster care at age 10 and at age 12, while living in a foster home, met their CASA, Lynne Alper. Lynne spent several hours each week with M, getting to know them and taking them on outings. Lynne quickly discovered M loved art and would take them to Open Studios and to the art museums. Lynne, a former educator, advocated consistently for M for their education and to make sure M was able to stay in the same school, even though they moved between a dozen foster placements before they turned 18. 
Unfortunately, M was separated from their siblings during their time in foster care. M has two older sisters and four younger siblings. Three of their younger siblings were adopted by the same family in a closed adoption and moved to Colorado. Unfortunately, M was unable to maintain contact with their younger siblings due to the closed adoption process. They were  devastated.
During November of their senior year of high school, M turned 18 and worried about aging out. At the time, there wasn't the option of extended care services until they turned 21. M was so worried about losing Lynne as their CASA, that they asked Lynne if she would be taking another CASA youth and moving on from them. Lynne quickly reassured M that the bond between them was real and not going away. After being their official CASA for 6 years, Lynne became their "Auntie" for the next fifteen. 
M applied to various California State Universities (CSU). M chose to attend CSU Monterey Bay, and with Lynne's help, applied for financial aid, local and national scholarships. M was a recipient of Horatio Alger and CASA of Santa Cruz County Scholarships. They were admitted to the university directly out of high school. While M's scholarships paid tuition and dorm fees, they weren't enough to pay for all living expenses. During the holiday breaks, the dorms closed and M had nowhere to go. They needed money for a place to stay and food during these breaks. 
Awarded a work-study stipend from the County office of Education, M became an intern at CASA of Santa Cruz County for two summers. They went through the CASA training program and learned all about CASA from the other perspective of the volunteers. As a recruitment and training intern, their experience helped provide perspective to future volunteers.
In 2012, M researched, wrote, and presented their CSUMB capstone project on Why CASA Works. They created a wallet-sized card for youth foster to use as a resource for important numbers to call. This proved to be extremely useful, as the county gives foster youth a huge, overwhelming binder. By having the essential resources on one card, the foster youth would know who to call for what.
After graduation M then worked at CASA of Monterey County for about a year before renewed contact from their siblings changed everything. M's younger sister invited them to celebrate their niece's 6th birthday. Their visit turned from vacation to an official move to Colorado to be reunited with their siblings. 
M began using their bilingual skills for the good of the Latinx community with their work through Latinx serving organizations and mental health agencies. Through these jobs, and their exposure to social workers, M decided they, too, wanted to become a social worker and therefore needed a Masters in Social Work. As determined as M is, they started applying to graduate schools in 2015, and unfortunately was turned down from the programs they applied for. 
They continued working in the community and the next year, in 2016, they noticed that immigrants needed medical case management and didn't have insurance. So they helped write grants to build a case to support them. In the Summer of 2016, M continued to apply for graduate schools and was accepted to Columbia University School of Social Work (CUSSW). However, during M's first graduate semester they experienced mental health challenges and requested a Leave of Absence, but their resilience once again won out and in the Fall of 2017 re-started (CUSSW). They attended remotely, so they could continue to work. M has encouraged other fellow friends and family in pursuing their dream in also becoming social workers. One of them being their little sister that completed her BSW. 
In the Summer of 2019, M was the only recipient selected from CUSSW to attend the National Latinx Social Worker Conference to display their student social worker Call To Action poster with research on well-being equity for LGBTQIA+ Latinx Immigrants. In addition, M was selected for the Latino Community Foundation of Colorado Latinas LEAD Power Summit, as an Inspiraciones Storytell. They shared a poem that highlighted the intersectionality of their foster care experience as a first-generation Latinx immigrant. 
And in April of 2021, they earned their MSW! They had three graduations (see photos)--one for their entire program, one for Latinx graduates, and one for the LGBTQIA+ graduates, the Lavender Graduation. We are thrilled to celebrate M's accomplishments. Of course, their Auntie Lynne was there the whole way and even attended all 3 of their graduations over Zoom. It is amazing to see the bond these two have formed in their twenty years together.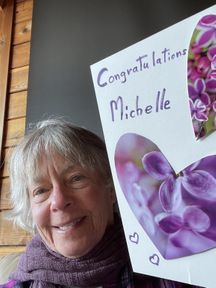 M is currently applying for new career opportunities in Colorado and across the United States. M is ecstatic in serving the LGBTQIA+, Latinx, immigrant and refugee communities. And they will be working towards accumulating hours so that they can take the exam to become a Licensed Social Worker, Licensed Addiction Counselor and Sex Therapist. M is eager to see their little sister graduate with her MSW next year!
We are excited to see the change M will make in the world and have no doubt it will be significant. M has so much to offer and we're so proud of them.
One of our staff members reflects, "M is such a wonderful human being, loving, caring, and definitely motivated to achieve all their dreams and goals. M is simply a very driven person who dedicates themselves and works diligently and thrives in what M sets themself to do. I am very excited to see what amazing things they will do for their community and the many lives they will impact with their amazing life story."
Special thanks to Lynne and the Wallau family for remaining by M's side, cheering them on every step of the way.