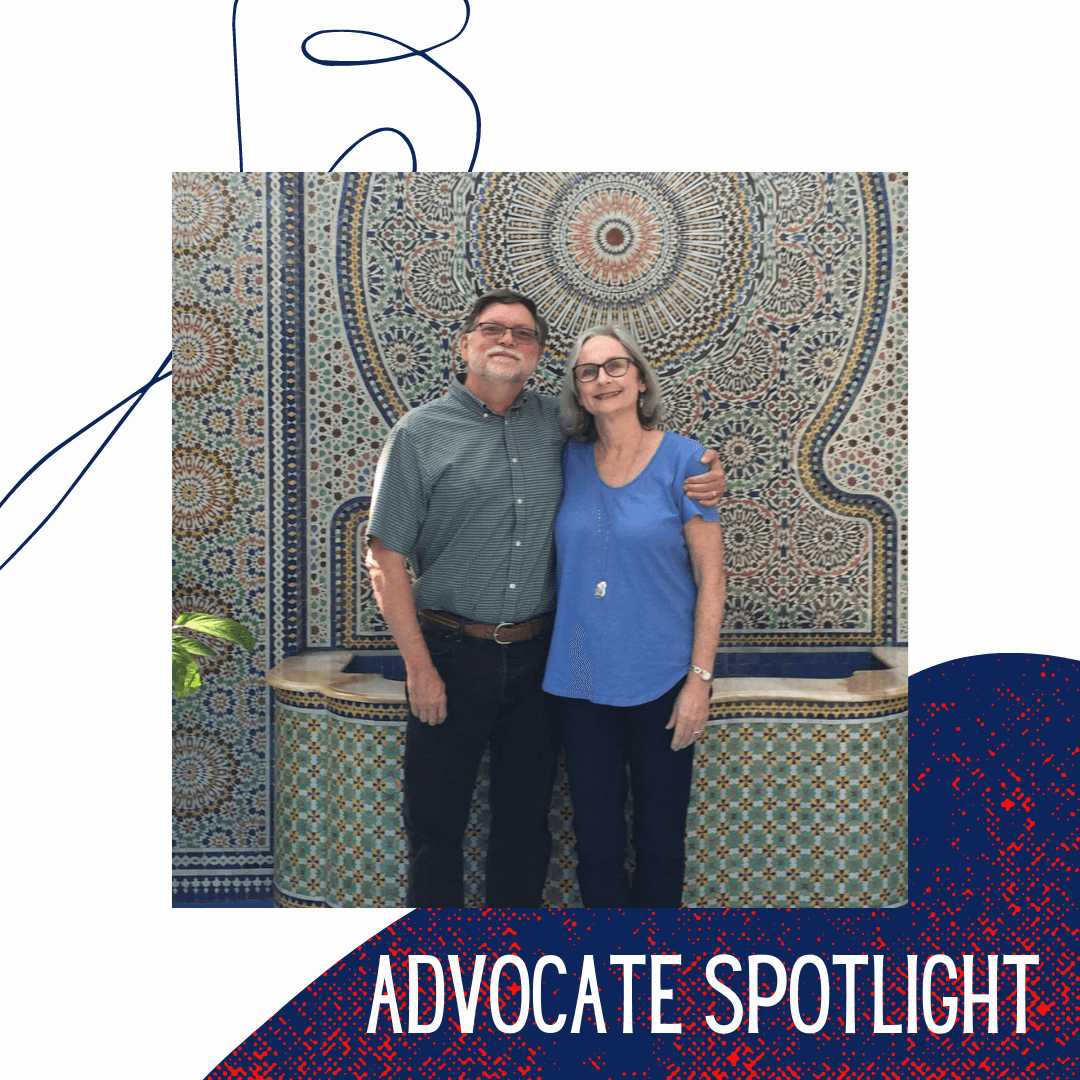 Torrey and Mark, a married retired couple, understood that every child has tremendous potential and capacity for resiliency even after Adverse Childhood Experiences (ACEs). They understood that children thrive when they have regular interactions with responsive, caring adults. Feeling that they could be those adults for our community's foster children, Torrey and Mark decided to become Court Appointed Special Advocates in May of 2019.  
Upon completing their training, they were soon matched with a pair of siblings—Torrey working with a five-year-old girl and Mark with the girl's 3-year-old brother, who were living with their family in a homeless shelter. 
Prior to the pandemic, Torrey and Mark would visit the siblings weekly and take them on outings, either all four together or one-on-one, allowing the children to have fun and for Mark and Torrey to get to know them as individuals. Torrey and Mark would offer Mom help to support the family success; however, the siblings were removed from Mom's care in September 2019 and placed with an extended family member. Although this placement was on the far side of the county from where they lived, once a week Torrey and Mark would drive 40 minutes each way to pick up the kids from school. They would often take the siblings to the CASA house, where they would play games, begin homework, create art projects, or just relax after school.  
In March 2020, the pandemic hit and with it, the isolation required to keep both Advocates and children safe. Torrey and Mark did not take the kids on outings for over 15 months, until CASA gave the OK to resume face-to-face visits. The couple tried FaceTiming with the kids, however, since they were so small, it wasn't always successful. Their contact hours shrunk from about four hours a week to maybe an hour a month. But they never gave up, dropping off art supplies or snacks so the kids would know they were still thinking of them. And, of course, they continued to show up to the court hearings, providing their court reports. 
Once the COVID restrictions were lifted, the four resumed visits and outings. Torrey says it felt as if they just picked right up where they left off. The kids were so happy to be with them again and would recall memories of the outings they had done pre-pandemic. Visits to the now familiar and comforting CASA house resumed. The four have been hiking, gone on a picnic, visited the fair, went bird watching, and recently, they went to the beach and had a wonderful time together. 
For the past two and a half years, Torrey and Mark have devoted their attention and time to the siblings and the adults in their lives—parents, extended family caregivers—to advocate for a safe, stable, and nurturing home. They stayed by the children, being a constant, stable presence in their lives as they went through family transitions as well as the pandemic. The siblings are set to be adopted by their aunt this month (October 2021). Torrey and Mark really hope that they will remain a part of the children's lives for years to come.  
We thank Torrey and Mark for their dedication, their loving care and their never-ending faith in the kids' resilience.